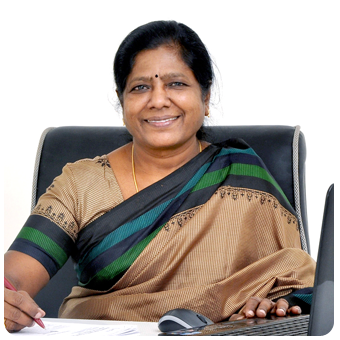 Tmt. T. Jayalakshmi M.A
Chairperson, SAN
Chairman's Message
---
Welcome to SAN INSTITUTION, we offer a comprehensive array of programs. I hope that you will share my excitement when you see what the College has to offer you as a potential student.
Our College enjoys a diverse and talented faculty, offering a strong curriculum that prepares students to become tomorrow's leaders. All of our students receive personalized support, designed to hone leadership skills and career development. We assist students to integrate their learning into an overall vision of themselves and their world. We seek to create people of competence, commitment and compassion.
These opportunities are here for you. Take advantage of them. Explore, experience and embrace SANIBS. If you are looking for the chance to work towards greatness-to become successful professionals and contributing citizens-we can deliver on that promise.
Wherever you come from, you will find a warm welcome in a vibrant community.
About us
---
SAN INSTITUTION provides a world class business education. The faculty ensures that our students become leaders who can work in diverse environments and accomplish the most complex objectives.
SAN INSTITUTION is widely known for its diverse and talented faculty, staff, and students. They have created an innovative academic culture that stresses cooperative teamwork, entrepreneurship, a global point of view, and an emphasis on new ideas and fresh perspectives.
The healthy academic environment helps students to develop enquiring minds, gain information literacy and acquire analysis and problem-solving skills to help them succeed throughout their lives.
The Mission of SAN INSTITUTION is to provide outstanding academic support and training to the students in an unmatched environment. We provide in-depth career counselling, broad exposure to a variety of industries and career paths, and exceptional opportunities to network with potential hiring firms.